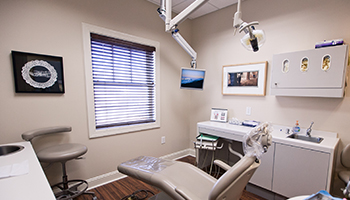 Testimonials
Richview Family Dentistry is a leading provider of dental services in Clarksville, but you don't have to take our word for it. Read what some of our patients have to say about their experiences with Dr. Bill Wall.
Care to share your own testimonial about Richview Family Dentistry? We'd love to hear from you. Email us with your story, or Like us on Facebook and post it on our wall.
They made my concern their concern…
"I have lived in five states and have had very good dental care over the years, but none better than here in Clarksville. My recent experience is a good example of the excellent care I have had at Richview Family Dental.
A front tooth broke during the New Year's holiday while I was on vacation more than five hundred miles from Clarksville. Panicked, I phoned Dr. Wall's office for help. Staci, one of Dr. Wall's office administrators, calmly explained what I should do, made me an appointment for emergency treatment with Dr. Wall, and compassionately gave me her cell phone number in case I  needed further help during the holiday. I was so comforted that Dr. Wall's staff made my concern their concern. Dr. Wall saw me as soon as I got back to Clarksville and replaced the badly broken tooth with a crown, which he and his staff did with so much care and professionalism.  Richview Family Dentistry goes so far beyond what is expected, always making your dental health their priority. I am so happy to be one of their patients (but would prefer to never again present them with such an emergency!)."
– Sheila Pirkle, Ed.D., Clarksville, TN
Exceptional dental experience…

"I have known Dr. Wall for more than 15 years, and he has consistently provided me with excellent dental care. He is a thoughtful dentist with a great sense of humor, and he makes going to the dentist a pleasant experience. Dr. Wall is first and foremost concerned for his patients well-being,and he creates a welcoming, comfortable environment for everyone in his office. I enthusiastically recommend Richview Family Dentistry to anyone looking for an exceptional dental experience."
– Amelia Anderson, Ph.D., Lexington, KY
Very knowledgeable and approachable…
"Dr. Wall has been my dentist for more than 20 years, and he is such a great dentist that my Vandy heart can even overlook his love of UT football!  Dr. Wall is very knowledgeable and approachable, and his dental and office assistants are cheerful and professional.  Everyone at Richview Family Dentistry is responsive to my needs as a patient, and the laid back atmosphere at the office has made my dental visits efficient and relaxed.  Richview Family Dentistry is an outstanding dental practice, and I would highly recommend them to anyone."
– Susan Starcher, Nashville, TN