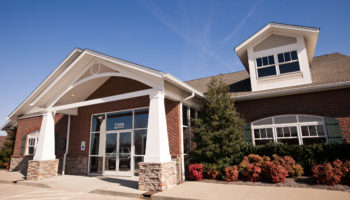 Our Office
At Richview Family Dentistry, we are dedicated to providing a superior dental experience in both an inviting and enjoyable atmosphere. Honored to stand at the forefront of your oral health needs, we strive to exceed expectations with the highest level of integrity and most sincere compassion. From our family to yours, we hope to create lasting relationships built on trust and dependability.
– – – – – – – – – –

Richview Family Dentistry is located in Clarksville on the corner of Memorial Extension and Warfield Blvd., across Warfield from Premier Medical Richview.
Our new office is a state-of-the-art facility where we perform implants and restorations in addition to routine cleanings and exams. But it's also a warm, welcoming environment where you'll actually enjoy a visit to the dentist.
Office hours, by appointment only, are 7:00am to 5:00pm, Monday through Thursday, and Friday, 7:00am to 3:00pm. We are closed on Saturday and Sunday. If you are a current patient with an after-hours dental emergency, please call and leave a message with our answering service.
Discover more about who we are, find out how to get here, and learn about the art on display at our office. Then, call us at (931) 647-2243 to schedule your consultation.
We look forward to seeing you, and serving you, soon.