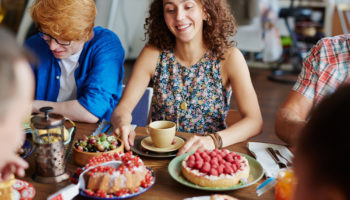 Holiday Parties
What to avoid for clean teeth and fresh breath.
With the holiday season comes festive parties and sweet treats. Here are some tips for keeping your teeth clean and your breath fresh from Richview Family Dentistry.
Don't deny your cravings but keep it in moderation. It's time to splurge! But instead of the sticky, gooey, sugary treats, go for the cheese tray or the veggies tray.

Crunchy fruits and vegetables, especially carrots are a great choice, as are whole grain crackers.
Adult beverages are highly acidic which in time will wear away at your protective tooth enamel. To cut down on the acid, eat some cheese. That's right.. The alkaline in the cheese neutralizes the acid in the beverage.

Drink clear liquids. Red wine and cranberry juice are both full of cancer-fighting antioxidants but both are potent tooth stainers. So opt for light colored or clear beverages.
Chew cinnamon gum. Cinnamon gum contains an ingredient called "cinnamon aldehyde," which is the essential oil that hunts down and destroys cavity-forming bacteria. Cinnamon can also keep your breath fresher, longer especially after those garlic-laden dips.
Drink plenty of water. Water has so many benefits, especially during the holidays when you are out and about. Water keeps your skin fresh and hydrated but most importantly, water can clean away freshly formed bacteria from your teeth. It will also loosen that spinach left over from that delicious dip.
Stick to your daily oral health routine. Twice a day flossing, brushing and gargling. You may want to skip this daily routine during the holidays, but don't!
Even if you've lost track of your brushing and flossing routine, you can make up for it with and after holiday cleaning from Richview Family Dentistry. But do it now because you know how busy you're going to be during the holiday. Call to make an appointment (931) 647-2243
______

Source:
Absolute Dental