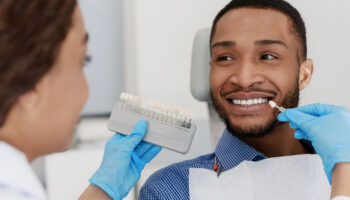 Best Practices for Whiter Teeth
Richview Family Dentistry has some tips for a whiter and brighter smile
Stains: Extrinsic vs. Intrinsic Stains
Extrinsic stains

occur on the surface of the tooth and are caused by tobacco use, beverages such as red wine, tea or cola drinks.

Brushing with a whitening toothpaste or professional prophylaxis can reduce tooth coloration due to extrinsic stains.

Intrinsic stains

involve tooth surfaces beneath the enamel.

These can be related to aging, long-term antibiotics (tetracycline), or amalgam restorations.
Over-the-Counter vs. Dentist-Supervised
Over-the-counter

options include a variety of products from toothpaste to paint-on gels and whitening strips.

Toothpastes primarily rely on abrasives to remove surface stains.

Whitening strips rely on peroxide to bleach teeth.

Dentist-supervised

options involve in-office application of a peroxide-containing gel, with or without a light intended to accelerate and enhance the bleaching process.

Dentist-supervised at-home options involve a whitening gel which the patient places in a customized tray made in the office to fit comfortably and minimize contact of the gel with the

gingiva

.

Cost may be a consideration for patients when choosing whitening options.

Over-the-counter products are less expensive than at-home or in-office approaches, but there is a time trade-off in that OTC products may take significantly longer.
When choosing a method, bear in mind that it's best to buy OTC products that have the ADA Seal of Acceptance. To have this seal, the manufacturers must apply to the American Dental Association's Council on Scientific Affairs and submit data to show that their products are safe and effective.
If you have any questions about which method of whitening to use, please contact us. We're here to help make sure you have a healthy and dazzling smile.
If it's been a while since your last check-up or if you're new to the area and are looking for a family dentist, call us. We love new patients at Richview Family Dentistry. Call us to make an appointment today at (931) 647-2243.