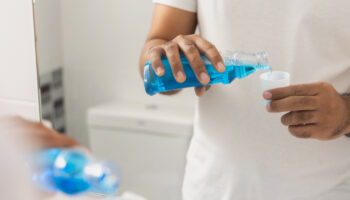 Which Mouthwash Should I Use?
Richview Family Dentistry wants you to know what to look for when choosing a mouthwash.
First, mouthwash should not be considered a replacement for daily brushing and flossing, however, it can be a helpful addition to your daily oral hygiene routine.
There are two types of mouthwash:
Cosmetic
Temporarily controls bad breath and leaves a pleasant taste but has no chemical or biological application.

Available in mostly all drugstores and grocery stores.
Therapeutic
These mouthwashes have active ingredients intended to help control bad breath, gingivitis, plaque, and tooth decay.

They contain active ingredients which include:
Therapeutic mouthwash is available both over the counter and by prescription, depending on the formulation.
WARNING: According to the ADA (American Dental Association), mouthwash is not recommended for children younger than 6 years of age. Swallowing reflexes may not be well developed in children this young therefore they could swallow large amounts, which can trigger adverse reactions such as nausea, vomiting, and even intoxication (due to the alcohol content in some rinses).
When choosing a method, bear in mind that it's best to buy over the counter products that have the ADA Seal of Acceptance. Manufacturers must apply to the American Dental Association's Council on Scientific Affairs and submit data to show that their products are safe and effective in order to get this seal.
If you have any questions about which type of mouthwash to use, please contact us. We're here to help make sure you have a healthy and dazzling smile.
If it's been a while since your last check-up or if you're new to the area and are looking for a family dentist, give us a call today at (931) 647-2243. We love new patients at Richview Family Dentistry!