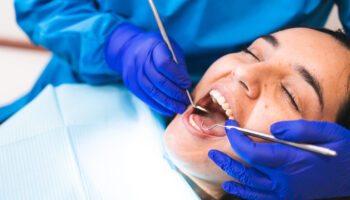 Mouth Cancer – What it is & How to Prevent it
According to the Mayo Clinic, mouth or oral cancer develops in any part of the mouth.
Your dentist is your first line of defense and detection. Unlike your regular doctor, your dentist is constantly working on your mouth. Though we observe Oral Cancer Month every April, our patients should be on the look out for these signs and symptoms all year round.
Symptoms:
A lip or mouth sore that doesn't heal

A white or reddish patch on the inside of your mouth

Loose teeth

A growth or lump inside your mouth

Mouth pain

difficulty swallowing
If any signs persist for over two weeks, contact your doctor or dentist.
Causes:
Mouth cancers form when cells on the lips or in the mouth develop changes or mutations in their DNA.

Mouth cancers begin in the flat, thin cells (

squamous cells

) that line your lips and the inside of your mouth.
Risk factors:
Tobacco use of any kind, including:

Cigarettes

Cigars

Pipes

Chewing tobacco

And vaping

Heavy alcohol use

Excessive sun exposure to your lips

Human papillomavirus

(HPV)

A weakened immune system
How to reduce your risk of mouth cancer:
Stop using tobacco – If you don't smoke, don't start

Using tobacco exposes the cells in your mouth to dangerous cancer-causing chemicals

Moderate your drinking – or stop drinking alcohol

Excessive alcohol use can irritate the cells in your mouth.

Avoid excessive sun exposure to your lips

Stay in the shade

Wear a broad-brimmed hat

Apply sunscreen lip products

Most importantly, see your dentist regularly. As part of a routine dental examination, ask your dentist to inspect your mouth for signs of mouth cancer.
---
If it has been a while since your last check-up or if you're new to the area and looking for a family dentist, give us a call today at (931) 647-2243. We love new patients at Richview Family Dentistry!