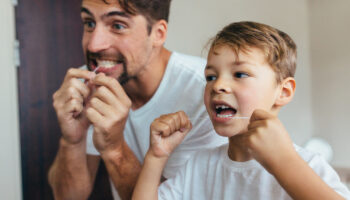 Men's Health Month is a Good Time to Review your Dental Health
Men's Health Month falls in June so Richview Family Dentistry explains a few things men should be doing to take care of their dental health as well
Men and women are different when it comes to oral health and starting good hygiene habits at a young age can help lead to healthier mouths.
Men vs Women
Men are at greater risk of

root caries

and

gingival recession

whereas women are at greater risk for

dental caries

(cavities) than men.

Men usually say that lack of time is a barrier to oral hygiene.

Some dentists suggest alternative times to men for brushing their teeth, such as while watching television.

According to the ADA, men have a higher risk of developing gum disease than women.

Men are twice as likely to develop oral cancer than women.

Men are known to experience higher rates of cardiac issues such as heart disease and high blood pressure, and the medications to treat these conditions can cause

dry mouth

.
Men's Oral Health Tips
Parents should encourage good oral health practices in young boys to establish healthy dental habits early on.

Schedule regular dental exams, which include routine cleanings, every 6 months.

Brush your teeth at least twice a day.

Don't skip flossing.

Flossing is just as important as brushing your teeth.

Be mindful of your diet.

Eat

tooth-friendly foods

such as fruits and vegetables, plain yogurt, cheese, dairy products, etc.

Avoid foods such as sticky candies, starchy foods like soft bread, and potato chips that can get trapped between your teeth.

Carbonated soft drinks are also bad for your teeth.

Avoid alcoholic beverages and smoking.
If it has been a while since your last check-up or if you're new to the area and looking for a family dentist, give us a call today at (931) 647-2243. We love new patients at Richview Family Dentistry!