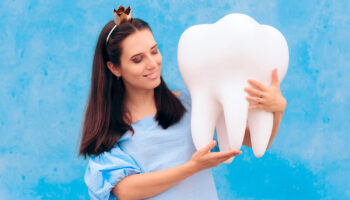 What To Tell Your Child About the Tooth Fairy
Richview Family Dentistry has some advice on what to do if your child asks about the Tooth Fairy
On average, children start losing their baby teeth around the age of 6. While some parents don't like to lie about Santa Claus, the Easter Bunny, and the Tooth Fairy, others let their child's imaginations run wild with the thoughts of these myths for as long as they can. So what should you do if they ask if the Tooth Fairy is real?

Follow your child's lead
If your child asks about it, try asking them, "What do you think?"

If they seem ready for the truth, give it to them!

If they don't, try saying, "I absolutely believe in the magic of the tooth fairy!"

When they find out the Tooth Fairy is not real
Teach them about the

tradition

that has been passed down for generations.

Remind them of the fun they had putting their tooth under their pillow and waking up to find a prize.

Talk to them about how parents become the Tooth Fairy because they love seeing their joy.
Remind them that they should keep the secret and not ruin it for younger siblings or other children.

Oral health
This conversation is a great opportunity to discuss the importance of maintaining healthy oral habits like brushing twice a day and flossing daily.

Losing baby teeth is a rite of passage. However, the magic does not have to end with knowing that the Tooth Fairy is not real. You can make losing teeth special and meaningful regardless!

If it has been a while since your child's last check-up or if you are new to the area and looking for a family dentist, give us a call today at (931) 647-2243. We love new patients at Richview Family Dentistry!