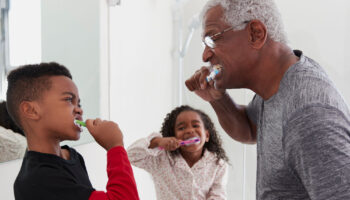 Best Practices for Healthy Teeth and Gums
Richview Family Dentistry wants to remind you of the basics for good oral health
Here's a list of what you should be doing daily to maintain healthy teeth and gums:
Brush regularly

Brushing twice a day is one of the most important things to do for good oral health.

Don't brush too hard and don't use a hard-bristled toothbrush.

The

American Dental Association (ADA)

recommends using a soft-bristled brush and you should change it out every 3 months.
Use fluoride

Fluoride helps prevent cavities and is a common ingredient in toothpaste and mouthwash.

Evidence suggests that a lack of fluoride can lead to tooth decay.
Floss

Flossing removes plaque and bacteria from between the teeth.

It can also prevent bad breath by removing debris and food between the teeth that brushing can't reach.
Don't smoke

Smoking harms the body's immune system, can cause gum disease, and can also slow down the healing process after a dental procedure.
Use mouthwash

Some studies say that certain mouthwashes can benefit oral health by helping to control plaque and gingivitis.

Limit sugary foods and starches

Consuming too much sugar can lead to cavities.

Starchy foods can cause tooth decay.

The ADA recommends eating plenty of fiber-rich fruits and vegetables as well as dairy products without added sugar.

Drink water instead of soda

Drinking sugar-sweetened beverages is the number one cause of cavities.

The ADA recommends drinking water or unsweetened tea throughout the day instead.

Make regular visits to your dentist

It is recommended that you see your dentist every 6 months.

The dentist can check for visual signs of cavities, gum disease, mouth cancer, and other oral health issues.

A hygienist will clean your teeth and remove plaque and hardened tartar.

If it's been a while since your last check-up or if you're new to the area and are looking for a family dentist, call us. We love new patients at Richview Family Dentistry. Call us to make an appointment today at (931) 647-2243.